If you look at old paintings, you'd think that sailing ships went to sea in almost perfect weather all the time. Sailors of the era appeared on deck in regal finery, but what happened when it rained? How did old-time sailors stay dry? Did they all go sit below deck and play cards until the downpour passed? Did they hide under a folded sail?
No, most likely these sailors wore a water-repellant garment, like sailors do today, except much less sophisticated. These antiquated garments usually took the form of a long cloak with a waxed or oiled exterior — known as oilskins — the idea being to keep rain from penetrating (but in most cases failing miserably).
Oilskins were made by covering a cotton or canvas coat, cloak or jacket with a mixture of water, soap and linseed oil. The gooey mixture was boiled together and then rubbed into the fabric. It was necessary to repeat the procedure once every year. Any clothes worn under the oilskins became oiled as well, leading to water-repellent oiled woolen sweaters, which can still be purchased today.
Another solution to making a water-repellant garment was to melt candle or beeswax and apply it to the fabric's exterior. The problem here was that the wax often cracked and needed reapplying yearly, just as the oil mixture did. The coating also had a strong odor and tended to bleed through onto any garment worn beneath. In general, then, foul weather garments in olden days were stiff, ungainly things that were used only when really needed.
Despite the need for effective foul weather gear, new technology developed only slowly. World War II gave some impetus to innovation when Barbour developed a new watch-keeping suit that became known as the Ursula suit for use on the open bridge of small war ships. These two-part suits were warm and dry and became standard Royal Navy issue during the war.
When the first yachts started going to sea after the war, there were huge numbers of Ursula suits available, and many sailors began to wear them. But it wasn't until the advent of fiberglass boat building and the great expansion of recreational yachts it created that the modern predecessors of today's foul weather gear emerged.
The first modern foul weather suits were made of PVC. They had a huge problem in that they kept water off but did not allow sweat to escape. So, anyone who was working hard while wearing a PVC suit ended up drenched in their own sweat. In the late 1960s, Henri Lloyd in the UK was the first company to use a proprietary waterproof fabric that allowed the suit to breathe. Since that time, most manufacturers of foul weather gear have turned largely to the use of Gortex, a polytetrafluoroethylene (PTFE). Gortex fabric has micro-pores that allow the suit to breathe while keeping water out.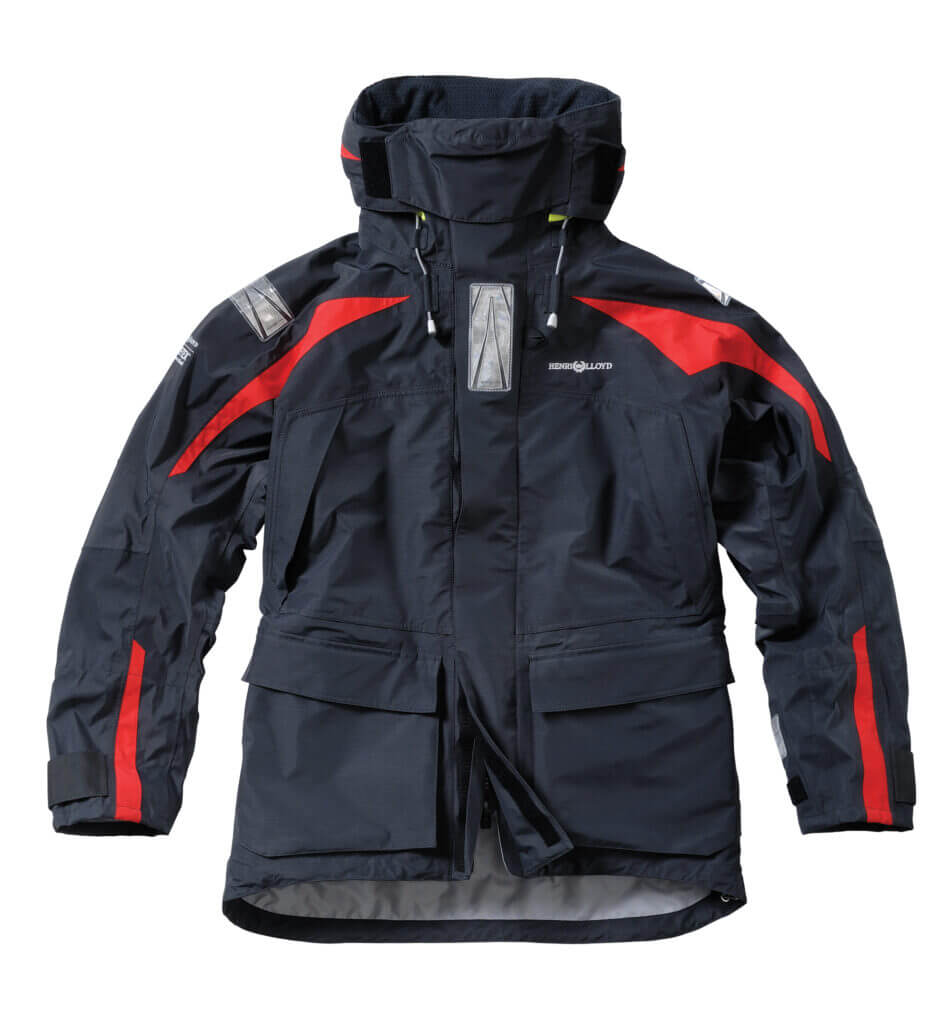 In trying out several suits recently — I walked through a car wash wearing them — I was pleasantly surprised at the advances that have been made. Even in the worst "weather" the carwash could throw at me, I remained dry inside the different suits. I also learned that the sprayers in car washes are pretty powerful. While the wind isn't anywhere near hurricane strength, the sprays certainly feel like they are.
I tried out Gill, Helly Hansen and Henry Lloyd gear in the carwash and found that they all keep the wearer very dry. The products from these three manufacturers are well made, waterproof and comfortable. One small difference among them was that the Gill and Henri Lloyd suits had flaps over the pockets, while the Helly Hansen had zippers that sealed the pockets completely, with a rubberized cover incorporated into the zipper. I liked this Helly Hansen feature.
The Helly Hansen gear also felt slightly more comfortable than the other gear, mostly because it was lighter. But I had no problems with any of the suits in terms of their effectiveness. This says that foul weather gear manufacturers have come a long way since oilskins.

The only minor drawback I noticed with any of the suits was that the bright yellow Gill gear got dirtier from the carwash brushes than the other darker color suits did. I suspect that this yellow gear would get dirty fairly quickly on board a boat.
After spending 15 minutes in the carwash, I'd buy any of the gear I tested and be perfectly happy with it. In fact, I've used Henri Lloyd foul weather gear since the early 1970s and have nothing but praise for it. After almost 12 years with my latest suit, the waterproofing needs reworking, and Paul Strzeleki, president of Henri Lloyd, informs me that they can recoat it with no problem.
Roger Marshall has written about boats forever, authored 14 marine related books, designed a number of boats and has fun trying out new marine gear and equipment.
DIY Oilskins
Dixon Kemp, a well-known British sailing designer and writer of the 1890s, gives the following recipe for making good oilskins.
Ingredients
1 1/4 pints of water
6 ounces of yellow soap
5 pints of linseed oil
8 ounces of Patent Driers
Mix the water and yellow soap. Mix the linseed oil and patent driers. Bring the water and soap to a boil and add the linseed oil and driers. Boil the mixture for about 15 minutes. Then, apply while hot to your oilskins. Rub the mixture in well with a stiff brush and let it dry.
Best Buys
Some of the things that you should look for when buying foul weather gear are:
Buy the type of gear appropriate to your type of sailing. If the weather in your area is warm all the time, buy lightweight, single-thickness gear designed simply to keep rain off. If you sail where it is cool, buy gear with a liner that will also keep you warm. Both the Gill and Henri Lloyd jackets I tried had linings and were very comfortable in the 15- to 20-knot wind that was blowing when I wore the jackets on the water. Some foul weather gear has a removable liner, which is good for people who sail in different seasons.
Always try the gear on before buying it. Make sure you can comfortably bend over in it and do all the other things that you'd normally do on a boat.
Pay attention to collar height. Gill makes foul weather gear with three collar heights. The lowest height is for shore wear; on board you need the mid height, while offshore racers should have the highest collar. The height differences are designed to keep the back of your neck warm in cold conditions.
Your jacket should have a hood tucked into the collar. Hoods today are fluorescent yellow/green to enable them to be spotted should you go overboard.
There should be reflector patches on the shoulders to enable a man overboard to be seen at night. Don't buy a suit that doesn't have these patches.
Check the seams. All seams should be taped on the inside so that needle holes from the sewing do not allow water through.
Check the cuffs. You should have Velcro-fastened cuffs on the wrists and ankles so that you can secure them to prevent water ingress.
All the gear I tried had front zippers protected by Velcro closures, making it very watertight. Look for this feature in any gear you purchase.
Pockets should stay dry and so should also be protected by Velcro closures.
Make sure you get the high-front, bib-style pants. Waist level pants allow water to get under the jacket.
Pants should also have reinforced knees and seat.
I liked the hand pocket pouch in the front of the Gill pants. On a day when the water temperature was in the 40s (Fahrenheit), it was nice to have a lined pouch in which to put my hands.
I'm not a big fan of elasticized suspenders to hold up foul weather pants. In my experience, after a couple of years, the elastic tends to stay stretched out. But that's the way all the pants seem to come these days.
Keeping Dry
A few other tips to help you stay warm, safe and dry:
Wear layers of clothing so that you can adjust your clothing level to your exertion level. If you're working hard, you'll probably not want to be wearing a lot of clothing, but if you're sitting on the rail for a couple hours, you'll probably want to have warm clothes on. Having layers helps you adjust as needed.
To take your foul weather gear off when wearing boots, simply pull the foul weather pants down around your boots and step out of the boots. When you come on watch again, just step into your boots and pull up the pants.
Wear a long, narrow towel around your neck to keep stray water from going down inside the collar of your jacket. If you get your shirt-front wet, it may stay wet for a long time.
Remember, when going out on small boats, always wear a lifejacket and have fun on the water.