RELiON® Battery's Latest Innovation:
The RB36V40 sets a new standard in marine batteries as the first 36V option in RELiON's extensive product line. Designed for durability and long-lasting performance, this lithium battery ensures users can enjoy more time on the water with peace of mind.
Unmatched Capacity and Hassle-Free Installation: With maximum capacity that exceeds its series equivalent by 20%, the RB36V40 offers superior power output. Its parallel design enables easy installation and provides a small Group 31 footprint. Weighing 70% less than lead-acid alternatives, this battery delivers exceptional speed without compromising efficiency.
Efficient Charging and Enhanced Power: Thanks to the parallel set-up, the RB36V40 allows for quicker and more convenient charging. Users can enjoy ample power reserves whenever needed, ensuring a seamless boating experience. Its advanced technology enhances performance and extends runtime.
Durable Construction for Marine Environments: Built to withstand the demanding marine environment, the 36V battery features an IP67-rated case, providing complete dust resistance and water ingress protection for up to 30 minutes submerged at 1 meter. It incorporates a robust glue channel and screw-latched enclosure to shield against airborne contaminants. The internal Battery Management System (BMS) ensures optimal battery health and safeguards against short circuits and over-charging.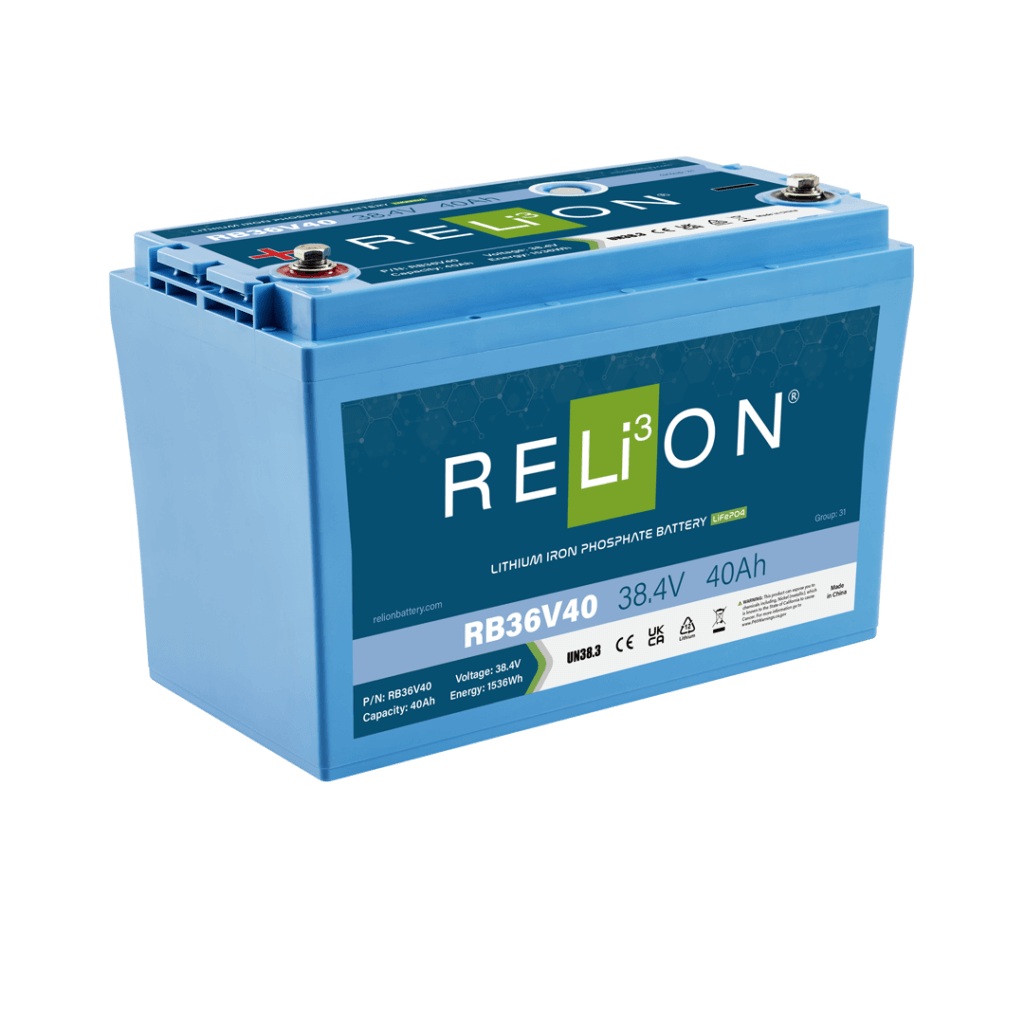 Key Features and Specifications:
Easy installation with a small footprint (Group 31: 13″ x 6.8″ x 8.4″)
Parallel set-up for enhanced capacity with fewer batteries
Fast recharging capabilities
IP67 waterproof rating for superior protection
Impressive 1536-Watt hours for extended usage
Experience the RELiON Difference: Discover the full range of RELiON Battery's lithium battery options and explore how these advanced technologies can transform your marine experience. Visit our website at https://relionbattery.com/ for more information and to find the perfect battery solution for your needs.